Natsuki Crisis
Manga Muscle Girls
As I mentioned in
a recent journal entry
, I'll be posting daily updates in the month of August. There will be a combination of manga, artist features, and website features, but it all should be worth reading. I wanted to start with an old favorite of mine, and commissioned *
IDarkShadowI
for fanart of a character from this series:
Natsuki Crisis「なつきクライシス」 is an older series, first published in 1991. It was created by Hirohisa Tsuruta「鶴田洋久」and features one of my favorite muscular manga girls of all time, Akira Kandori「神取あきら」. Natsuki Kisumi「貴澄なつき」is the martial artist main character of the story. In the first arc, she fights and later befriends a female wrestler named Rina Takaoka「高岡リナ」. Upper classman Masaaki Yanagisawa「柳澤雅昭」is the captain of the Karate team and forms a love triangle with Natsuki and Akira Kandori. A total of 18 volumes of manga were published and the series spawned an anime OVA series produced by fan favorite studio Madhouse, and a video game for the Super Famicom system called
Natsuki Crisis Battle
. Akira Kandori doesn't appear on too many of the covers, here are a the two that I could find: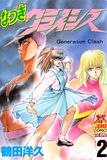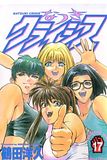 She appears more frequently in the beginning of the series, in volumes 2, 3, 5, 6, and 7. Volume 5 also gives you a bit of Akira's backstory, and shows a time when she had long hair and a less muscular body. Then she goes away, and only makes a cameo at the end of the series in volume 18. That cameo is a funny, it shows her trying to buy a dress as Natsuki and Rina watch on. The series isn't available new from Amazon JP anymore, but here's the
Amazon product link
if you want to try to buy it used. Here's a few of my favorite pages from the series: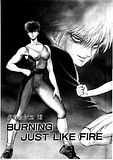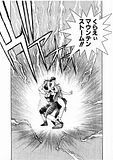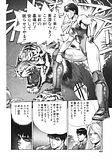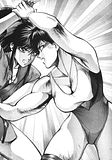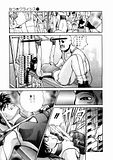 The anime is also worth checking out, especially episode 2 of the OAV series which is the Natsuki vs Akira fight. I should mention that two of
Dairoku Tenmaou GREAT's
earliest works were doujinshi entitled
GLORIOUS
which focused on Akira Kandori. I've never found this doujinshi for sale since it's pretty old. If you ever come across it, please be sure to let me know. Here are the covers of those doujinshi:
As always, please be free and generous with your comments. I like receiving them and it helps me motivated to share my findings. I hope you like this first post of the month of August. Don't forget to check back daily for updates.
Related Links
Manga Muscle Girls
Amazon JP product link for Natsuki Crisis vol 1
Natsuki Crisis Battle Super Famicom game
GLORIOUS by Dairoku Tenmaou Great @ Doujin DB