Daikon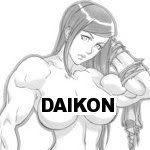 Tamagoland is the name of Daikon's
blog ( some art NSFW )
and
eBay store
. This stuff is amazing, and when Daikon does venture into more muscular artwork it's usually spectacular. A batch of stuff was just released into the eBay store which I heartily recommend you bid on. I've
posted about Daikon before
, but I'll keep repeating it for those that don't know. The picture above comes from a batch of commissions that he mentions in the blog. Daikon's occasionally open for commissions through the eBay store.
Here are some of the items available for bid currently. You've only got 12 hours left at the time of this writing: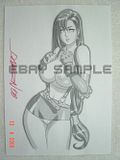 Here's a
Daikon commission that Masschine posted
in black & white and color versions. Masschine scored bigtime on these, since Daikon doesn't often venture into hyper-muscular females:
You can see some older eBay auction artwork up in the
Photobucket account
or at a the fan site
Daikon-Art.com
.
Here's some of my favorite works of Daikon that I've saved over the last few years: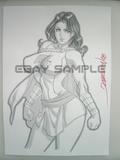 And finally, here are some cool She-Hulk pictures he's done:
Awesome, no? I just love how clean and sexy the artwork looks. I've been a fan for a long time and am happy to see that he's posted new work after being offline for awhile.

--


Journal
|
Archive