Refaal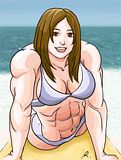 I've been a fan of the artwork of
Refaal
for awhile now, and I think I first saw his work on the now defunct Wreck-Shop forums. I just recently commissioned some artwork and the result was
Akiko Daimon by Refaal
(if you're not familiar with the character, check out
this journal entry
).
I had no idea that he started doing a
webcomic called Joe & Jane
until I checked out his
journal
and saw
this deviation in his gallery
. I've seriously damaged my reputation as an art-hunter for not finding this sooner! He had plans for another
comic called Alisya over at moonwarrior.net
at some point, but it looks like that one is gone now. This self-described 'wacky brazilian dude' deserves more attention from the community, and goshdarnit, I'm going to do my best to make sure he gets it! He doesn't make it easy, since it's hard to find his work on the interweb. Here's one of my favorite strips with the adorably massive Jane: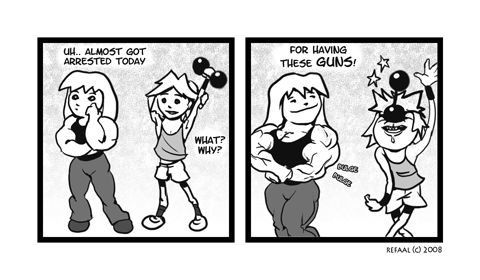 He's taken down the gallery at his
FurAffinity page
. According to 'teh Reffy' it's because he's crazy and took it down in a fit of madness. Seriously, though, he says he goes through periods of frustration about his art, and does things like that. Luckily, he always comes back to us. But it drives me crazy that he's constantly taking down things from his galleries because I'm always wondering about the stuff I might not have seen. He also gave me permission to post some of his artwork, so here's stuff that you may have missed over at
FurAffinity
: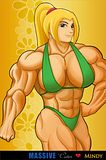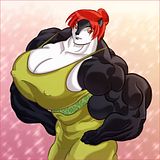 He had some stuff up at
Storm-artists.net
, but seems to have taken down the artwork there as well. It's too bad, since I didn't have a chance to see it when it was there. Luckily, his
page at iScribble.net
is still there. Here's some stuff that used to be at
DeviantArt
: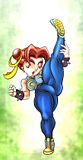 Oh, and Refaal asked me to mention how funny, smart and cute he is. That's not my bag, but if you're a smart, sexy, strong girl, Refaal's your man.
Update: Posted a series of sketches leading up to this final version in my scraps section (
Sketch 1
,
Sketch 2
,
Sketch 3
,
Sketch 4
,
Sketch 5
, ).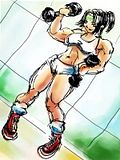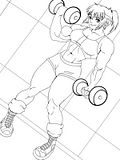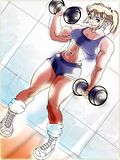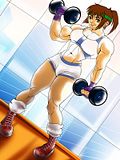 --


Journal
|
Archive