Journal Entry:
Sat May 23, 2009, 5:08 AM
Wamusato Haru
Haru WAMUSATO ( 和六里 ハル )
is a published artist and one of the members of the
Neo-Queendom Writers Association ( nWa ). His first contribution appears in the second Neo-Queendom book. He is more well known for his works that are published in Japanese manga magazines. If you check out his

Doujinshi DB Project entry
you'll see what I mean. His various website provide some sparse material for his artistic works, and I couldn't find anything on them worth mentioning. But here they are in case you'd like to dig around a bit:
Wamusato Website 1
,
Wamusato Website 2
, and
Wamusato Website 3
. He's got his works collected and published as well, as you can see from
a quick search on Amazon JP
.
It was a happy day when I discovered this talented artist also ventured into the realm of muscle girl artwork. The pic leading this article comes from
Wamusato-san's blog category over at the Neo-Queendom website
. You can also find samples of this at
Wamusato's Pixiv account
. If you haven't checked out
my guide to Pixiv
by now, shame on you. For the sake of convenience, I'll point out some of the relevant pieces to our interests directly:
The real hard to find muscle girl artwork done by Wamusato-san is over at
Mixi
. Since you must have an account to see the stuff, I've rehosted some of the stuff to make it easier. But if you have an account, go on over to
Wamusato's Mixi profile
and make sure to check out the
Mixi Muscle Maiden Community
where you can find some of the nicer images. Here's the stuff from his blog section on Mixi: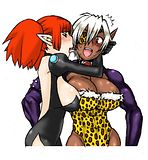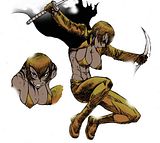 ... and here's the stuff from the Muscle community board. I love the Lum pic and the girl in pink: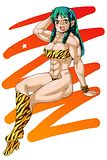 The
Wamusato Blog
focuses on his other works, but it's worth checking out for completeness' sake. And I'd be remiss to not mention that
Wamusato-san has a Twitter account
. Seems like Twitter is even becoming popular over in the land of the rising sun. I hope that this introductory article on this talented artist is useful to you and that you've found some new stuff within. As always, I'd love to hear comments from the community as it helps to keep me motivated in researching and creating these entries. I've been scouring the doujinshi that he's contributed to that have entries in the
Doujinshi DB Project
. There's one Doujinshi entitled "Wagamama Oujo no Hunter dai Renzoku Shuryou!" that has a guest pic by him which you can hunt down if you're so inclined.
Related Links:
Haru Wamusato @ Doujinshi DB Project
Wamusato Website 1
Wamusato Website 2
Wamusato 3
Wamusato works on Amazon JP
Wamusato-san's blog category @ nWa</a

Wamusato Pixiv Profile
Wamusato Pixiv Gallery
Wamusato Mixi Profile
Mixi Muscle Maiden BBS
Wamusato Blog
Wamusato @ Twitter